Pousada Trijuncao is the Newest Member of Global Sustainable Tourism Association, Bee + Hive
Bee+Hive News
Pousada Trijuncao is the Newest Member of Global Sustainable Tourism Association, Bee + Hive
01/16/2019
DRIFT Travel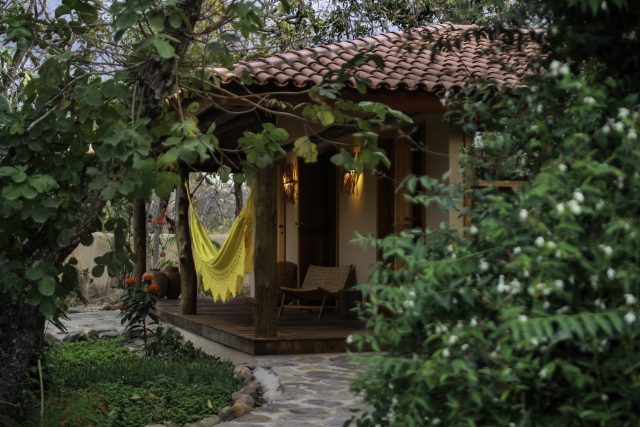 Pousada Trijuncão, a small luxury lodge amidst the Brazilian Savannah (Cerrado) is now open.  The eco-friendly property will offer an array of sustainable experiences; which include night safaris to spot the jacaré-anão (a native species of alligators and the smallest in the world), safaris for the elusive Brazilian Jaguar, expedition to the spring of Formoso River, and visits to Grande Sertão Veredas, a national park.
Pousada Trijuncão is also the newest member of Global Sustainable Tourism Association, Bee + Hive, which aims to offer consumers a go-to platform in which to discover the best in sustainable travel experiences. Bee + Hive unites hotels, restaurants and parks that embrace sustainable practices and experiences. The association continues to expand around the world and has recently announced the addition of Nay Palad Hideaways in the Philippines and Reserva do Ibitipoca in Brazil to its roster as well. Additional members are Sal Salis Ningaloo Reef in Australia, Masuwe Lodge in Zimbabwe, Bananal Farm, Pousada Tutabel, Pousada Literária de Paraty and The Caiman Ecological Refuge in Brazil, and the Treehotel in Sweden.
Cerrado is known for its biodiversity, which is greater than any other savannah in the world. Covering more than 20% of Brazil, it has the same area of Spain, France, Germany, Italy and England combined. It is home to 5% of the world's plant species, more than 10,000 species of plants, almost half of which are found nowhere else in the world. Also, the maned wolf, giant armadillos, 850 species of birds, 251 species of mammals, 204 species of amphibians, 1,200 species of fish and 278 species of reptilians.
Located where the border of the Brazilian states of Goiás, Bahia and Minas Gerais meet, the property is powered by solar energy and combines authenticity and creature comforts: seven luxuriously appointed suites, some with wraparound terraces and outdoor baths; amenities by Natura, a Brazilian cosmetic company that sources products from the Amazon; and an in-room mini bar stocked with delicious native nuts.
The traditional culinary concept of the lodge includes outdoor and indoor kitchens; and Pousada Trijuncao offers picnics and alfresco night grills serenaded by local musicians, in addition to a restaurant for guests only. Breakfast, offered anytime of the day, is a highlight of the best the area has to offer, with typical cakes and fruit.